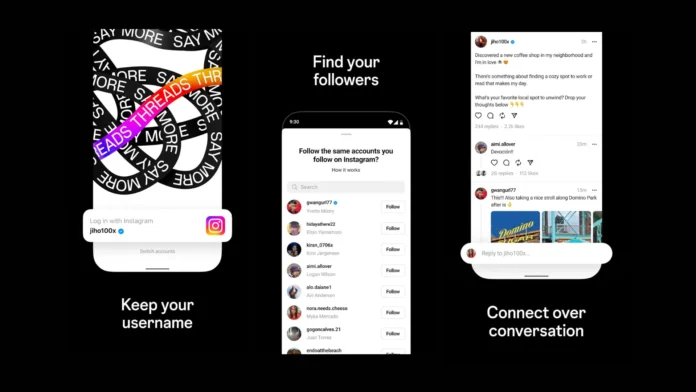 Nowadays, Instagram and Twitter both have a large user base. But 'Meta' (Facebook's parent company) always had a step ahead. Meta will acquire new technologies, as when Tiktok was banned and Meta came out with sensational reels. Now it includes a new text-based Instagram app called "Thread" in its bucket.
Users can post 500-character text updates, photos, and videos using their Instagram login and be part of any public communication.
5 million users join up for this threads app in the first 4 hours after it launches, and another 5 million users sign up in the next three hours.
Mark Zuckerberg predicts that "this threads app will soon become the mainstream public conversation app with over 1 Billion+ users."
Instagram has many users, but these threads app won't replace it because Mark made Instagram tightly attach the Threads app to itself. 
Many individuals, especially techies, have claimed that Instagram's threads competitor will overtake Twitter with the term "Twitter Killer," In many aspects, Threads resembles Twitter, but it does not currently provide direct messaging or the hashtag capabilities that Twitter provides.
In threads, people can discuss topics together in the form of communities. They can directly follow and connect with people they see on Instagram. There is no need to rely on the user base for the Threads app because Meta is the world's largest social media company with a large user base. Instagram has 2 billion users worldwide, whereas Twitter has 300 million.
Unverified users on Twitter now have a restriction of seeing 1000 posts per day, which is one of the reasons people prefer threads. This new app release impact caused the meta stock to increase by roughly 3%.
Users must delete their Instagram accounts if they want to delete their threaded accounts, but if they don't want to, they can deactivate their accounts and uninstall the app as they like.
How to Download?
Android users may download the app from the Google Play Store, while iOS users can do so through the Apple Store.
How to use Threads app?
Install the app on your smartphone.
Log in with your Instagram account.
The Instagram username and verification will transfer. Additionally, there is the ability to customize your profile.
If a user is under 16 (or under 18 in some countries), they are automatically placed into a secret profile when they first join Threads.
Users who want to meet new individuals could decide to follow accounts on Instagram that they already follow.
Users can post a text message, a thread, or an image.
Aside from screen reader support and AI-generated visual explanations, Threads also has accessibility features activated.
Additionally, Meta stated that it would like to make Thread compatible with the ActivityPub protocol in the upcoming days.
By doing so, WordPress and Mastodon, two additional apps that implement the ActivityPub protocol, would be able to communicate with Threads.