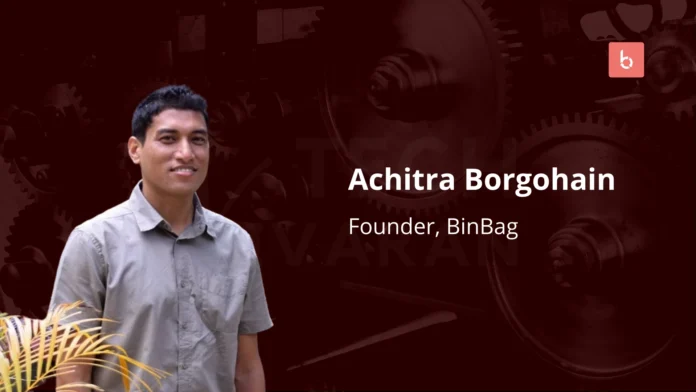 As technology is helping to grow E-commerce business day by day it is very easy to order the gadgets and get them to your doorstep. Many of us order Electronic appliances like laptops, Mobile phones, computers, and household appliances. But do you know after Electronic gadgets usage or expiry there is more than 90% E-waste disposed in the Land. This is because of no proper Knowledge on where to dump. There is a Start-up called BinBag which manages your E-waste and recycles it.
The Bengaluru-based startup BinBag has built itself a place by serving the needs of small and medium-sized businesses in disposing of their e-waste. Since its inception in 2014, it has constructed a 300-tonne e-waste facility in Andhra Pradesh and is now constructing a 100-tonne e-waste facility in Guwahati.
Reason Behind the Start?
The founder and CEO of the company Achitra Borgohain, Once he wanted to dump his e-waste when he was moving to a new residence in Bangalore. He was carrying a bag full of e-waste and searching for a bin to dump it and doesn't want to dump it on the roadside. Then he searched for recyclers on the internet but they said the minimum quantity is 200-300 kilos. Then he realized the society needs a solution for E-waste and started the BinBag Company in June 2014. It generated a lot of interest and served around 3000 customers in the first 18 months. In two months, BinBag recycled 500kg of e-waste.
Services at BinBag?
BinBag is constructing a circular economy by establishing a network of one or more recycling facilities near the markets they serve.
Their Services:
E-waste Recycling
Asset Liquidation
Data Deletion
BinBag uses technology to make a collection of E-waste and evaluate it more effectively. While also ensuring that collection and recycling agents have a decent existence.
How does BinBag work?
BinBag collects electrical and electronic equipment waste and material waste from homes, offices, apartment buildings, and communities.
Customers can order E-waste pickup by contacting the company via phone, email, or social media. After a week or so, the accepted orders are gathered, and cars are scheduled to pick up the E-waste.
Future Plans?
BinBag is currently operating two plants in Assam and Andhra. The third unit is setting up in Mumbai and also plans to expand its units to four to five cities in the forthcoming years.
In addition, the company is developing an app that will make it easier for them to locate and collect E-waste from customers. Users will also provide the option to upload E-waste details and photographs so that BinBag can properly set up the pick-up plan.
Borgohain wants to expand the BinBag model across India with technology. He hopes to recruit people from the informal sector to teach and educate them on how to properly dispose of E-waste and improve their standard of living.