Many of them are unable to go outside for a dental clinic or hospital due to the pandemic situation outside. To overcome this disadvantage in the dental sector an award-winning dentist Dr.Pranjan Mitra came up with an idea called "DENTA MITRA", where patients can talk to a dentist, explain their problems and take treatment in their home itself.
Denta Mitra is a dental service app powered by AI and Machine Learning that brings dental services to your doorstep via an innovative concept "Clinic in a Suitcase". It comes with AI Scanner, which allows users to auto-diagnose their oral health Anytime Wherever they are.
The reason behind the start
Founder and award-winning dentist Dr.Pranjan Mitra, who has nine years of experience in the dental sector, realized the need for greater access to oral care and awareness in rural and semi-urban areas. Also, the situation has changed for the pandemic-induced lockdown, which resulted in the closure of dental clinics. To overcome this drawback and thus contribute to society. Dr.Pranjan Mitra with his childhood friend Satyajeet Pradhan founded Denta Mitra in July 2020.
This Bangalore-based startup Denta Mitra is a Digital Dentist Smart App that provides digital doctors for oral treatment, 24*7 video consultations and if the treatment of one's problem is not able to cure in video consultation users can book the dentist for a house visit to treat.
Their mission is to make oral health care more accessible and affordable to all people, particularly urban residents, working parents, busy professionals, and elder people who require treatment at their homes due to their busy schedules.
The app was started with only 1 dentist but at present, there are 10 dentists. Within six months, they treated more than 2000 oral patients through video consultations and visited 300 homes. At present, it has five in-house doctors and seven consultant doctors.
Services they offer
Denta Mitra provides a good number of services which includes Health score check, Sweet score check, Daily oral hygiene remainders, and dental tips. Also, they offer
Dental Implants
Root Canal Treatments (RCT)
Dentures
Video Consolation
Find Nearby Dental Clinic
Aligners
Check Health score
Self Oral Diagnosis
If there is any emergency users can find nearby dentists and hospitals. There is an artificial intelligence scanner in the app to test the teeth problems like cavity problems, etc.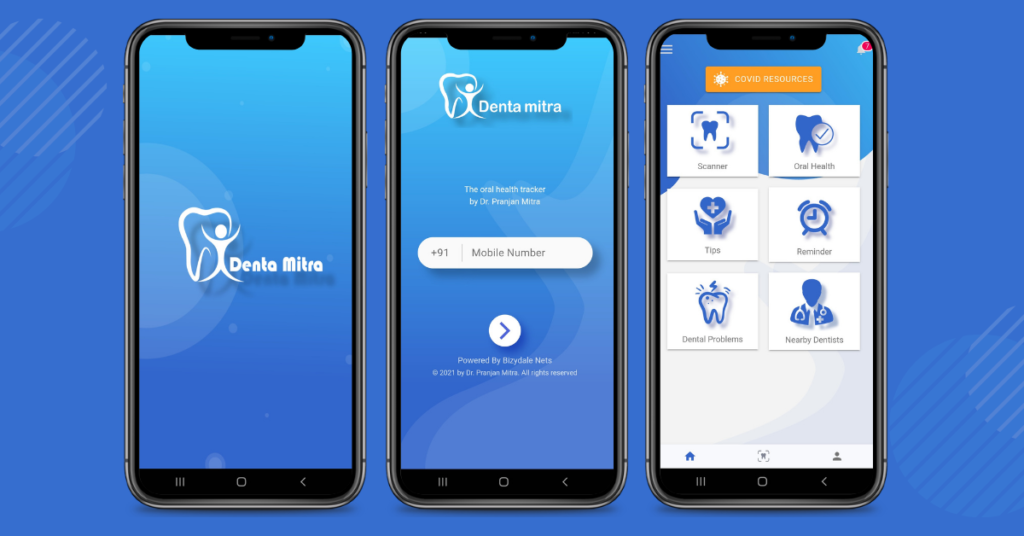 Denta Mitra Home Visit Process
Consult a doctor easily without going to the hospital and waiting for hours to get the treatment. Save your time and make an appointment when you are free. To book a dentist to your doorstep with a suitcase clinic firstly install Denta Mitra App, available on both Android and iOS.
Install the App.
Call from app to Book Appointment.
Denta Mitra will book a slot as per the Availability.
The dentist will reach your doorstep.
Take the Treatment and make payment using UPI, QR Code, and Debit/Credit card.
Also, you can book a doctor for a home visit using email book@dentamitra.com or else with the Toll-free number 1800 572 1145.
Additionally, the app allows users to listen to music or watch Netflix shows while getting their treatment to provide entertainment and stress relief.
Revenue
Denta Mitra app generates revenue through consultations fees, service fees, subscriptions fees, and partnerships. On average the startup monthly revenue is around 1.5 lakh and also they are targeting to generate more revenue by increasing their services to other cities.
Currently, doorstep treatments are available in Delhi, Noida, Gurgaon, Chandigarh, Panchkula, Mohali, Patiala, and Bangalore.