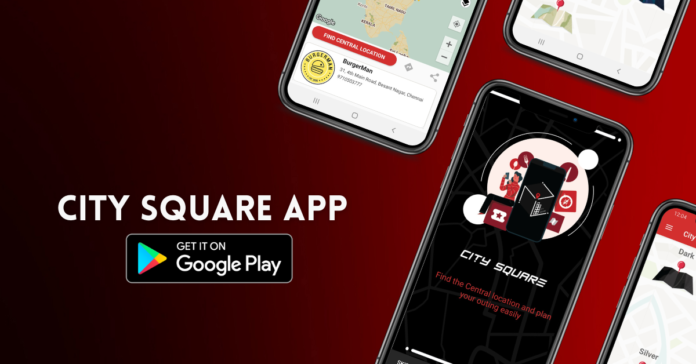 Now-a-days many of us want to hang out with friends during weekends but where to meet at a certain location was still questioning. After discussions, some might drop out because they had to travel longer than other people. To bring a solution for this, SRM university Tech guy along with his four friends came up with a motto "You can find the best place to meet" and develop an application with the name "City Square". It took 3 years to develop the application and spent a year building their own algorithm on top of the open APIs of google maps and launched their app on March 2020.
Chennai, its history and the hangout spots, many routes & locations aren't new to Prashanth. Initially, they were lived in kotturpuram, which was so conveniently located in the heart of the city. But his family decided to move their living place from kotturpuram to neelankarai in 2016. It was quite far away from the center of the city. Whenever he wants to meet someone he needs to travel at least 20 kilometers each which consumes more time and spends a lot of money on cab fares to reach his destination on time.
Prashanth being passionate about creating innovative things wants to find a solution for this. There are location-sharing apps & recommendations about places but the solution for traveling long distances to meet a certain point hasn't been addressed by anyone. During his Research, after speaking with a few Chennai residents, he discovered that a large number of people are affected by this problem, therefore he wants to put a stop to it, and came-up with the solution "City Square" app.
With 10,000 Rupees as investment and with his four friends Sowbhagya & Rohith (User Interface & User Experience) and Deepthi & Yazir (Content creating & Testing) as a key person, Prashanth developed the application.
How the City Square app works?
For suppose if you want to meet some people and if you enter multiple input locations manually then this app will find Equidistant Location( Center Location with equal distance for all inputs given) which can save Time and Fuel, and Money for people who are planning to meet. In addition to this, it will specify Zomato restaurants within the given input locations. Along with this, it will give other relevant information like restaurant details, ratings, etc for the user.
How it is helpful?
For travelers, this app might help a lot. When you want to book a hotel within your visiting locations, if you had all of your venues in the app it will suggest the best place to stay. Not only this, it can help in other categories listed below.
For Logistic firms, based on client base it helps to set up their headquarters at the nearest point.
In case of Imports and Exports business, distributing the goods to people this app can be helpful.
Future Plans?
This Application is now accessible only for Android users, In Future it will be accessible for iOS users as well. According to sources, this startup plans to onboard 25 restaurants in the next few months. Prashanth intends to expand the City Square app to include taxi service integration, markets, hotels, saloons, and other relevant services.